PowderCab's Fleet of Vehicles
As our vehicles are our 'bread and butter' we know that we have to fully invest in them. These workhorses of the Alps offer excellent levels of comfort, safety and reliability and have an incredible build quality allowing us to keep running year-round through all conditions that the mountains throw at us.
Our fleet is made up of 8-seater Renault Trafic minibuses (which we have used since we first started running transfers in 2005). Here is a short video to show what they look like, how spacious, stylish and comfortable they are:
Comfort: They are all fully air conditioned and are all under 2 years old (mainly brand new for the 19/20 season). All long wheel based versions; allowing for some extra legroom as well as providing plenty of luggage space for  skis, boards and bags.
Safety: At PowderCab, safety is the number one concern for our clients and therefore all minibuses are fully equipped with snow tyres (in the winter), snow chains and we even add safety bars to the sides. Below are a couple of pictures to show the difference between summer/all weather tyres and true snow tyres.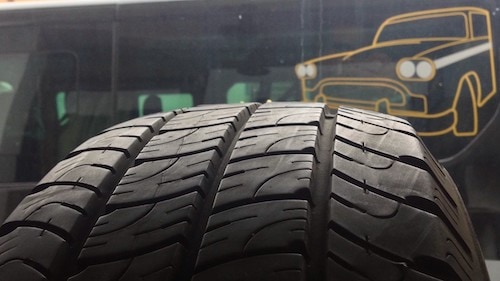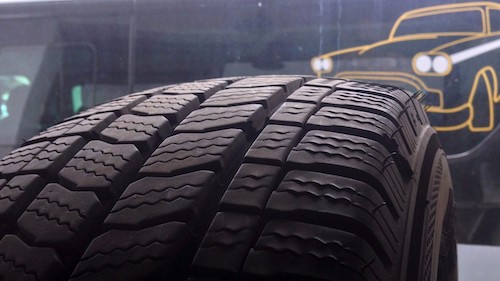 Specialized High-End Tyres: Our summer tyres (1st pic) are chosen for higher temperature use in dryer conditions and each tread is more 'solid' with less 'grooves'. No expense is spared for our choice of snow tyres (2nd pic). They are chosen for colder weather use and the extra grooves in each tread helps snow attach itself to the tyre. Snow then sticks to the snow thats on the tyre making it grip incredibly well to the snow covered roads. The difference in grip on the snow whilst driving with snow tyres is just amazing and very satisfying.
Snow Chains: And when the snow is too thick or when conditions warrant it (in preparation for imminent snow fall, police directives etc) we will use our industrial snow chains. All of our drivers are fully trained in how to fit them properly, so much so that they can do it blindfolded. Here's a video of one of our bosses Steve doing a demonstration of how to fit snow chains properly:
(If you are driving out then please do heed Steve's advice about learning to do it before coming out to the mountains. Once you know how to fit snow chains, its a very simple procedure. However, its not only awful to try learn on the side of the road, in the freezing snow and in the dark, it also causes absolute chaos for us and for thousands of other road users when drivers stop in the middle of the road due to lack of/wrong equipment and/or know how).
For more information on how we track and monitor our fleet of vehicles in real time please click here.