Avoriaz Top Station or Avoriaz Prodains?
Avoriaz ski village is a pedestrianised town which means there are only two options to be dropped off at /collected from: Either Avoriaz Top station or Avoriaz Prodains Express Telecabine.
If Avoriaz is a car free town how do I get to my accommodation?
From where ever you choose to get dropped/collected (Either Top Station or Prodains), then you have 3 options of getting to your accommodation:
walk and hire a luggage sleigh
or take a snow taxi (like a people carrier on tank tracks)
or take a horse and sleigh
The last two options are payable, with the snow taxi being the cheapest option and the horse and sleigh being the most romantic. You can check if your hotel provides this as part of their service to you.
What's the difference between Top Station and Prodains?
Avoriaz Top Station (1800m altitude): The transfer from Geneva to Top Station takes about 1 hour 40/50 minutes to Top Station on a clear run (no snow, no traffic etc).
Avoriaz Prodains Express Telecabine (1200m altitude ascending to 1800m in 3 minutes): The transfer time to Prodains Express Telecabine is about 1 hour 15/25 minutes on a clear run (no snow, no traffic etc).
So which option should I choose?
The decision for where to go may depend on several factors such as where your accommodation is located in Avoriaz, your budget, your flexibility, how well you or youngsters travel on mountain roads, the opening hours of the telecabine etc.
Furthermore, sometimes on busy Saturdays, our availability is limited to Top Station and we may only be able to offer services to Prodains at certain times of the day.
Practical information to help with your decision
Prodains: The transfer to the Prodains Express telecabine is shorter, quicker, cheaper and a much more comfortable one as we avoid 19 hairpin bends going up the 12km mountain road to Avoriaz Top Station. So if you or fellow passengers don't travel well then Prodains is the best option for you.
Prodains: You take the Prodains telecabine up as a foot passenger (including your luggage as they are enclosed bubbles specifically for foot passengers and skiers alike) and it only takes 3 minutes (it's incredible!!). If you are skiing on the day of your travel then the price of taking the telecabine as a foot passenger is included in the days ski pass and youngsters travel for free.
A single ticket for an adult is €8.50 and a return is €13.90. It opens at 07:00 every morning and closes Mon – Thurs at 21:00, Sat – Fri at 00:00 and on Sun at 22:00.
Top Station: If you are staying at the Amara complex or in the Falaise area, they are located right next to the Top Station Welcome centre, so in this case, Top Station is your best option.
In times of heavy snow then the Prodains Telecabine may be the only option on the day anyway for everyone's safety, due to police directives or in conjunction with our Terms & Conditions.
A map of Avoriaz to help make more sense of the car free resort
Please see the Avoriaz town map below (or click on this larger interactive map of Avoriaz) to help make further sense of the ski resort.
From the map, the top of the Prodains Telecabine is where grid reference E3 and F3 bottom corners meet. The Top Station 'Welcome Centre/Accueil Entre Station' is in the middle of B2.
---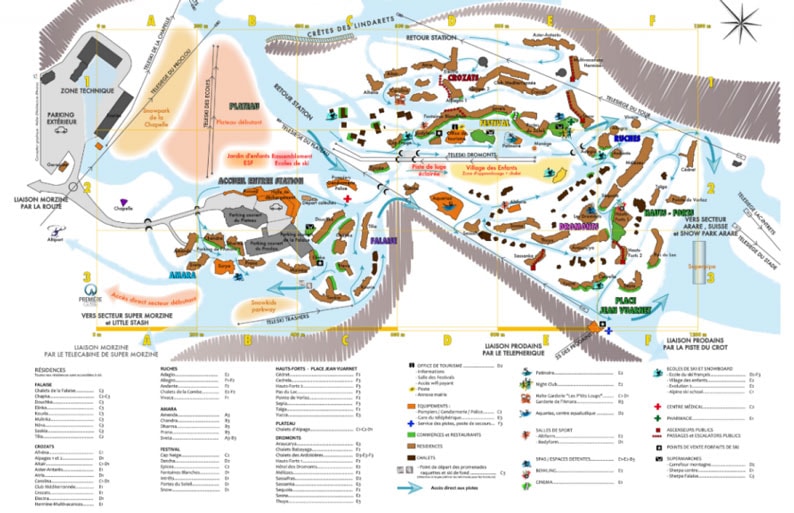 Map courtesy of Avoriaz.com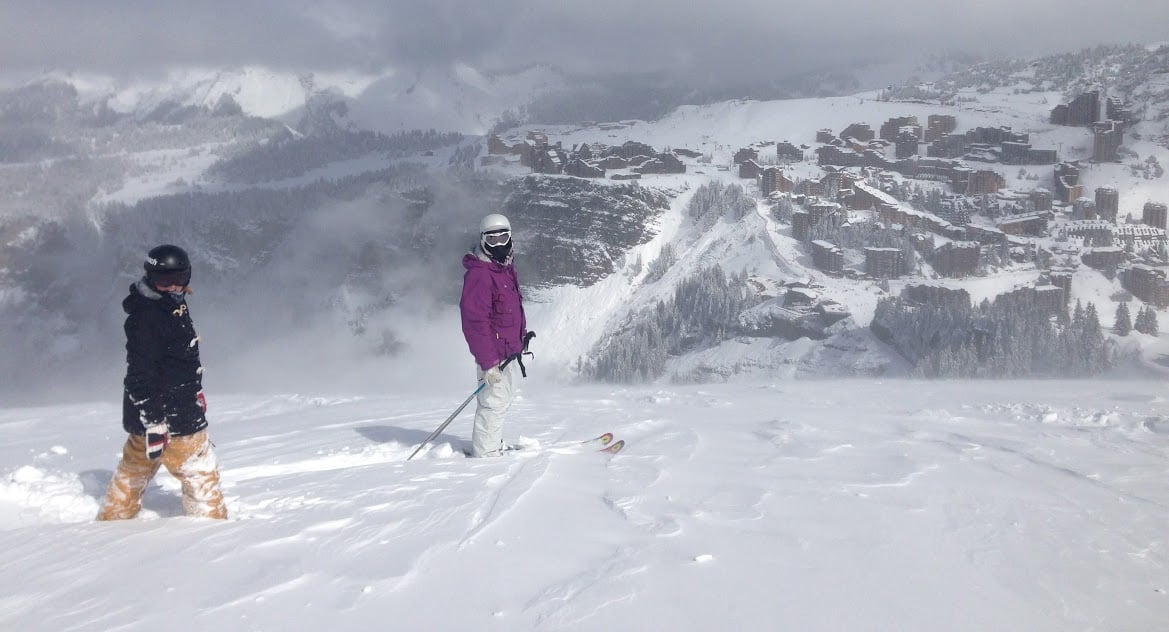 Avoriaz in the background on an amazing powder day with Caro from PowderCab and Laura from GypsySnowboarding 🙂